Texas SHRM is the state council for the Society for Human Resource Management, representing over 19,000 members, 32 HR chapters and 32 student HR chapters in the state of Texas.
The mission of Texas SHRM is to ultimately enhance and promote the HR professional and the HR profession.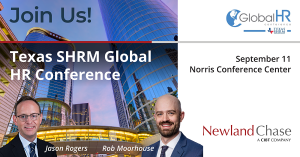 The Texas SHRM Global HR Conference is sponsored by Texas SHRM and has been around since 2001.
Whether a small international company or a large transnational, this specialized, educational networking opportunity for those who either work in or support Global Human Resources is dedicated to having real experts teach educational sessions that are both current and relevant and showcases service providers dedicated to the global HR community.
Join global HR innovators, leaders and practitioners to share ideas on how to succeed in a seemingly borderless world.
This strategic one-day conference, created by industry experts and senior level practitioners, will bring together diverse subject matter experts to discuss the risks, the rewards, the challenges and the opportunities for HR in a rapidly changing world.