Newland Chase is a Premier Sponsor of Worldwide ERC's four-day Americas Mobility Conference in May.
Worldwide ERC's Americas Mobility Conference is the largest global mobility industry meeting in the Americas – with more than 1000 attendees representing both corporate HR and mobility services professionals.
The annual conference includes educational sessions and networking opportunities, as well as a vibrant marketplace with over 90 companies exhibiting.
Stop by our booth #613 in the marketplace to connect with one of the Newland Chase leaders and get solutions to your pressing global corporate mobility and immigration concerns.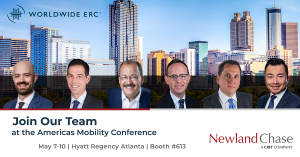 And, pick up a copy of our helpful quick guide, "How Will Brexit Impact Your Employees?", providing an at-a-glance summary of the impacts of both a deal or no-deal Brexit for employees in the UK and EU – along with key upcoming deadlines for the UK and the various EU member states that employers and employees need to have top of mind.
Attending this year's Americas Mobility Conference will be Newland Chase leaders:
Steven Diehl, Global Managing Director
Rob Moorhouse, Managing Director, Americas and EMEA
Enrique Arellano, Managing Director, Mexico
Jason Rogers, Vice President, Senior Immigration Counsel
Alex Muliero, Vice President, Global Business Development
Nan Piao, Director, Global Account Management