In this latest article for our series on immigration through investment, we are discussing the Cyprus Citizenship by Investment Programme. This investment programme allows for a straightforward route to obtaining Cypriot citizenship, which can be a preferable option to permanent/temporary residency. This programme has been significantly modified in September 2016.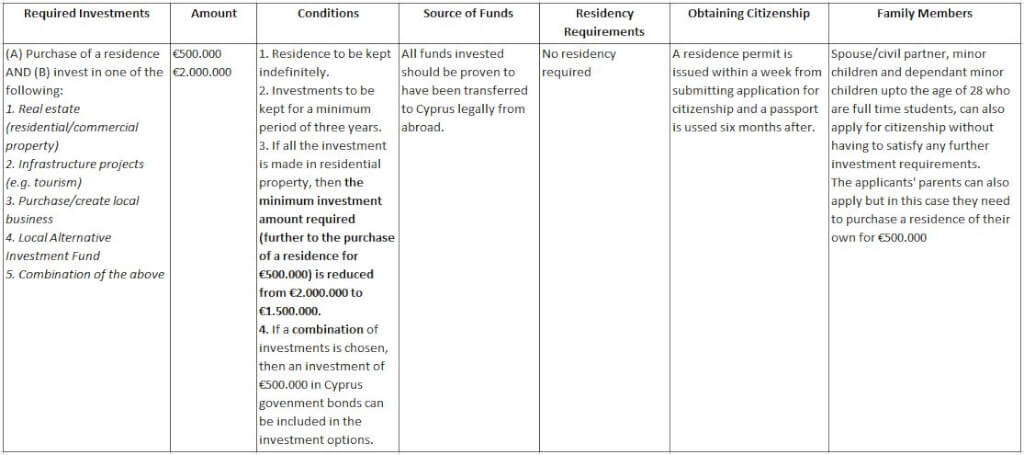 Analysis
Given that applicants can get a Cypriot passport within six months and that the programme offers low government fees, non-residence requirements and a wide choice of investment options, the Cypriot Investment Programme is probably the most attractive investment programme in Europe.
The Cypriot passport gives access to all the rights of an EU citizen protected by EU legislation and regulations. Moreover, it can be obtained with only one visit to Cyprus – the only requirement is one visit every seven years. There are no language requirements. However, employment in Cyprus is strictly prohibited and the applicant must prove that they have at their disposal a secured minimum annual income amounting to €30,000 (plus €5,000 per dependent).
Dual citizenship is permitted in Cyprus; however, prospective applicants need to consider whether their current nationality allows this and, if not, whether they are willing to renounce before applying.
Newland Chase can provide specialised advice on the relevant legislation and procedures, as well as preparing the application package. If you would like assistance with an investor visa application, please do not hesitate to contact us at enquiries@newlandchase.com.