New COVID-19 Travel Solutions
Discover the Guided-Entry Visa and Informed Traveler service designed specifically for your foreign national population.
Newland Chase at ERC Global Workforce Symposium
October 11, 2019
It's October already, and Newland Chase is looking forward to this week's Worldwide ERC® Global Workforce Symposium (GWS). The largest annual gathering of relocation, global mobility, and HR professionals — this year's GWS will take place on October 16-18 at the Hynes Convention Center in Boston. Eight members of Newland Chase's global leadership team will be in attendance.
On Thursday at 2:45pm, Sophy King will be presenting a timely educational session "All Eyes on Brexit: Is the Divorce Final?" As Brexit's October 31 deadline looms, don't miss this important update on the immigration landscape for companies operating in the UK and EU from Newland Chase's SVP for Global Immigration.
"Worldwide ERC® is the mobility and relocation industry's premier professional organization, and GWS is always its largest worldwide event each year," says Newland Chase's Global Managing Director, Steven Diehl. "As the leading global provider of immigration and visa services, it's only natural for us have a significant presence. We're sending leaders from a number of our key markets around the world. Managing directors from China, Latam, EMEA, APAC, India, and Ireland will be on-hand to meet with attendees."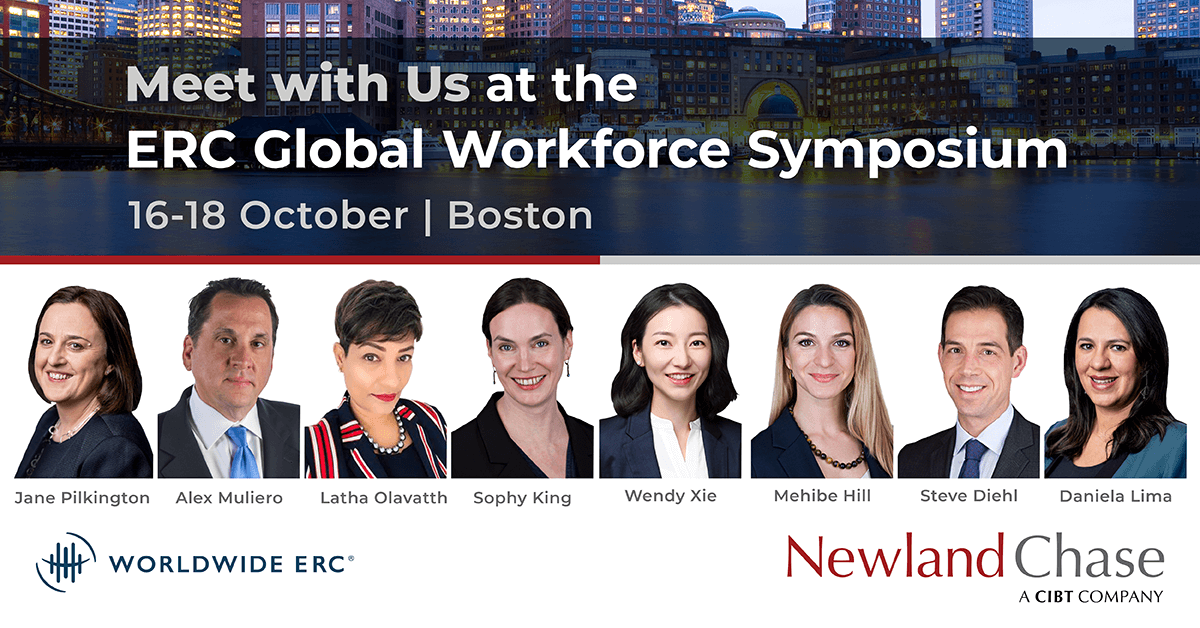 Stop by our booth #506 in the exhibition hall to meet key Newland Chase team members:
Steve Diehl, Global Managing Director
Sophy King, SVP Global Immigration
Alex Muliero, VP Global Business Development
Wendy Xie, Managing Director, China
Daniela Lima, Managing Director, Latin America
Jane Pilkington, Managing Director, Ireland
Latha Olavatth, Regional Director, APAC, India, Middle East, and Africa
Mehibe Hill, Client Services Director, EMEA
To pre-schedule a specific time to meet with one of global immigration experts and discuss your concerns and opportunities regarding your international work force, feel free to email alex.muliero@newlandchase.com.
Newland Chase, a wholly owned subsidiary of CIBT, is the leading global provider of immigration and visa services for corporations and individuals with over 1,700 expert immigration and visa professionals, attorneys and qualified migration consultants located in over 70 offices in 25 countries – providing immigration and business travel support to and from more than 190 countries around the world.
Worldwide ERC® is the largest relocation services industry trade membership organization representing professionals in the talent management and global mobility fields. With 7,400+ members in 65+ countries, WERC supports corporate HR and mobility professionals with resources, professional development, and policy advocacy empowering them to better serve the needs of their companies and employees in an increasingly global and mobile business climate.