Business Travel and Immigration Post-Brexit
Ensure your business and workforce are compliant with the new immigration regulations effective 1 January.
CIBT and Soccer Without Borders Team-up to Make Two Girls' Dreams Come True at 2019 FIFA Women's World Cup
December 16, 2019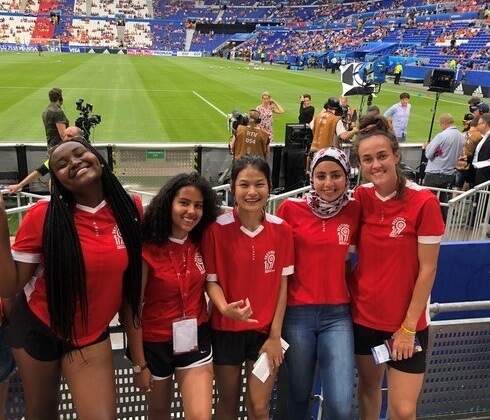 To us, visas and immigration is more than just paperwork and processes, rules and requirements. It is about people and lives, dreams and plans, achievements and experiences. While that is true in every case – occasionally, you have a case that brings that reality more clearly into focus.
When the 2019 FIFA Women's World Cup took place in France in June and July of this year, Newland Chase and CIBTvisas were there – at least in a small way, supporting the dreams of two teenaged girls, refugees from Congo and Syria. Shiham and Bayan had the experience of a lifetime representing the United States, the Soccer Without Borders (SWB) organization, and refugees at the Street Football World Festival 19 held in Lyon during the Women's World Cup.
Shiham and Bayan had the opportunity to play soccer/football, attend the Cup matches, and establish friendships with 304 other young female athletes from 35 countries.
"I am writing this Email to let you know about my trip to France, and how great of an experience it was. I got the chance to meet people from all over the world, learn about Football 3, playing a lot of soccer, and watching the Women's World Cup. This trip was something I never thought I would be able to do. I met so many people from so many different countries and  taught and learned each other languages. And one of my favorite things was that I met one of my favorite soccer freestyler, Alice. I always wanted to meet her and see her juggle, but it seemed impossible because she's in France. But, I got to see her which was so amazing for me. And I got to go around Lyon and tour it. I would really like to thank everyone who helped make this easier and made it happen such as our Visas."

Thanks, Bayan 
Shiham and Bayan were honored to be selected as two of the six girls on Soccer Without Borders's delegation to the international youth sports festival. However, standing between them and their dream was one seemingly mundane – but in their case, challenging – detail: getting their travel visas.
Shiham and Bayan both live now in Oakland, California; but as refugees from Congo and Syria and non-U.S. citizens, they both required Schengen visas to travel to France. Complicating things further, as refugees, they are unable to travel on either a U.S. passport or a passport from their country of nationality. They needed refugee travel documents.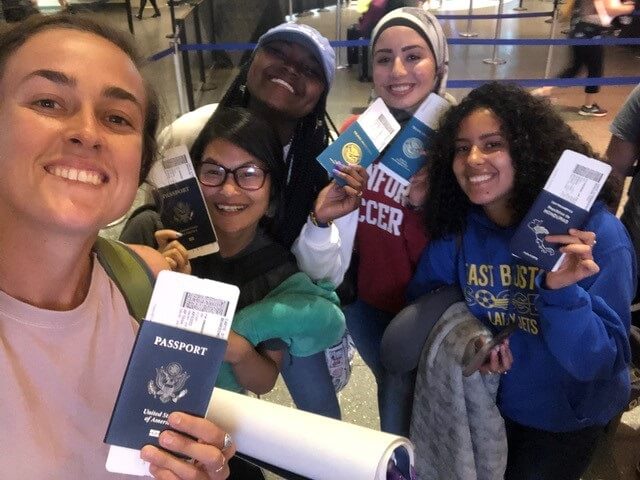 In February, SWB began assisting the girls in applying for their refugee travel documents. However, as sometimes happens in the bureaucratic maze that is the visa and immigration process, things did not go as smoothly as advertised. Mailing applications and supporting documents to a USCIS "lockbox" in Arizona and receiving only generic automated "incomplete" responses resulted in delays and frustration that threatening to derail the girls' dreams. With the circumstances of their journeys to the U.S. – obtaining original birth certificates within the strict definition of U.S. requirements proved almost impossible. Compounding the challenges, the girls would be traveling as "unaccompanied minors".
Finally receiving their refugee travel documents just days before the event, the girls still needed to obtain their Schengen visas. Officers at the visa processing center told them that, given the short time remaining before the event, there was virtually "no chance" that the girls would receive their visas in time.
Not wanting the girls to miss this chance of a lifetime, Soccer Without Borders contacted CIBTvisas and Newland Chase through a longtime supporter – hoping for a miracle. Inspired by the girls' stories, leaders at CIBTvisas and Newland Chase determined to make the girls' dreams happen.
The plea for help quickly found its way to the inbox of Seran Bentley-Thoburn, CIBT Global Director of Quality and Compliance. With a 30-year career in the corporate visas and travel industry, Seran might just have a couple of valuable connections and favors to tap to help pull off the miracle.
"We were determined to make this happen; it just felt like the right thing to do. We called senior leadership with the visa issuance authorities and explained the situation and what missing the trip would mean for the organization and the girls. Our contacts were equally moved and agreed to help based on our many years of collaboration."

Seran Bentley-Thoburn, Global Director, Quality and Compliance, CIBT
It made for a tense couple days of multiple phone calls and emails, but Seran finally received word that the girls' visas had been granted. Pete Davidovich, CIBT Director of Operations, then rushed to the visa processing center in Washington D.C. at 3pm on the Friday before the Sunday start of Festival 19. He was able to stop the visas from being forwarded to California via UPS and pick up the visas in person. A SWB coach from Baltimore then connected with Pete, and the girls received their visas during their brief layover in Boston before boarding their connecting flight to Paris.
"Hello my name is Shiham. This summer I was able to accomplish one of my long term goals which was going to France. I had such an amazing experience while I was in France. I met a lot of people from all over the world. I was able to able to learn different cultures but also reach mine. For the first time in my life I was able to make my family proud. I always told myself that "one day I will prove everyone one who talked down on me" and this summer I was able too. Words can't explain how much joy and happiness is within me I feel like I'm going to explode. Thank you soo much for making this journey possible. I know how much hard work you had to put into to just so I can accomplish my dreams. Thank you and god bless you with a lot more that what you did for me."

Shiham
Shiham and Bayan spent an amazing June 29th to July 8th in Lyon, France. They took part in an Equity Summit and youth forum with other girls and female community leaders from around the world, competed in the Festival Games tournament, participated in sports workshops, and attended FIFA Cup matches. (View a Fox Sports video of the girls at Festival 19 and FIFA Women's World Cup here.)
At Newland Chase and CIBTvisas, one of our core values as an organization is to "Embrace Global Diversity", and we are proud to have been a small part in this major milestone in the lives of these two young women and to have contributed to such a worthy cause.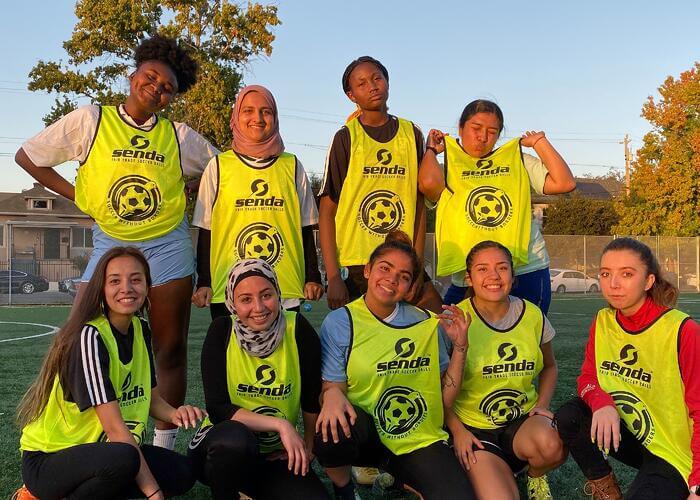 Shiham (pictured: back row, left) is originally from the Democratic Republic of Congo. She and her family fled the civil war in the DRC, arriving in Uganda, where they lived in a refugee camp for 11 years. She now lives in Oakland, California in the U.S. with her grandmother, her uncle, and her younger sister. There Shiham joined the local Soccer Without Borders program. She remembers being hesitant to play at first, since only boys were soccer players where she grew up. Shiham credits soccer as the first thing that showed her "girls can do whatever they want". Shiham was recently accepted into the Posse Foundation program, providing her a full scholarship to attend the University of Puget Sound in Washington. (Watch a Fox Sports video on Soccer Without Borders featuring Shiham here.)
Bayan (pictured: front row, 2nd from left) is originally from Damascus, Syria. Her family fled their home in 2012 and spent three years in Jordan before relocating to Oakland, California. Her family was one of the first refugee families from the Syrian conflict to be settled in Oakland. Bayan says that soccer has always been an outlet for her from the time she lived in Syria. It is her space where she can "go and tune out things that have made her sad." Bayan now attends Oakland International High School, a unique community school specifically designed for newcomer youth, and the site of the first Soccer Without Borders program in the U.S. Bayan plans to attend college next year.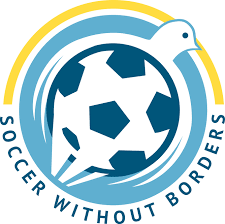 Founded in 2006, Soccer Without Borders' mission is to use soccer as a vehicle for positive change, providing under-served youth with a toolkit to overcome obstacles to growth, inclusion, and personal success. It has operated youth soccer programs in 11 countries with youth from more than 65 nations.
The Oakland SWB chapter where Shiham and Bayan participate serves more than 350 newcomer refugee, asylee, and immigration boys and girls in the Oakland area through year-round soccer programs and summer camps. National high school graduation rates for limited English speakers in the U.S. stands at around 58 percent, while SWB boasts a staggering 95 percent high school graduation rate among its regular participants.
It is particularly proud of the 30 percent of its participants who are girls – many engaging in sport for the first time in their lives. Learn more at soccerwithoutborders.org.
You can view a short documentary Playing for Change about the organization here. If you would like to support the vital work of Soccer Without Borders, please visit their Play It Forward campaign page.
CIBT Inc. is the leading global provider of immigration and visa services for corporations and individuals with over 1,700 expert immigration and visa professionals, attorneys and qualified migration consultants located in over 70 offices in 25 countries.
With thirty years of experience, CIBT is the primary service provider to 75% of Fortune 500 companies.  CIBT offers a comprehensive suite of services under two primary brands: Newland Chase, a wholly owned subsidiary focused on global immigration strategy and advisory services for corporations worldwide and CIBTvisas, a market leader for business and other travel visa services for corporate and individual clients.