Get The Visibility Your Company Needs
Reduce compliance risks and mobility costs while managing individual and project-related travel with ImmiSMART: the solution that unifies your travel and mobility programs.
Jason Rogers Speaking on Global Rotational Programs at SHRM Symposium
October 22, 2019
Global trends are demanding a new approach to staffing, flexibility, and the work place. Globalism, technology, talent wars, and the economics of international assignments are stretching international HR and mobility managers to develop out-of-the-box responses to these global trends.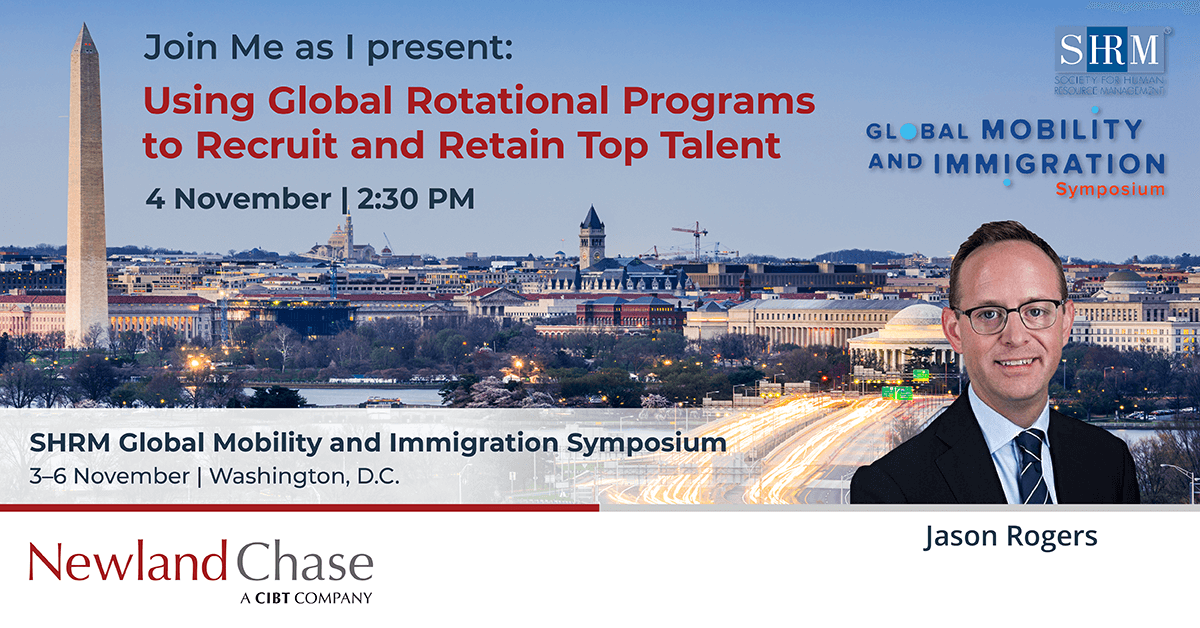 One such strategic response is the global rotational program – wherein employees work across several global locations in a preplanned schedule. Benefits for the company are numerous: talent attraction and retention, greater employee engagement, employee development, skills transfer, greater cultural integration, new market expansion, operations efficiency, and leadership development.
However, like any great opportunity, it comes with challenges: immigration, legal, and tax compliance concerns – as well as the basic operational logistics.
Newland Chase has been at the forefront of developing strategic global immigration services to respond to these trends, and there is perhaps no greater example than the work of our VP and Senior Global Immigration Counsel, Jason Rogers. As the company's senior immigration lawyer, Jason routinely consults with the world's largest and most successful corporations on their global immigration strategy.
Join Jason at the Society for Human Resource Management's (SHRM) Global Mobility and Immigration Symposium on November 3-6 in Washington, D.C. for his presentation Using Global Rotational Programs to Recruit and Retain Top Talent. This in-depth educational session will equip international HR and mobility professionals with the essentials necessary to begin implementing global rotational programs into their international HR strategy. Included will be a discussion of the necessary elements for a successful program and the critical immigration, legal, and tax compliance issues. Symposium attendees can get more information and add this session (November 4 @ 2:30pm) to their schedule on SHRM's website here.
Formerly known as the Council for Global Immigration (CFGI) Symposium, this will be Newland Chase's first time participating in this event. Attendees who would like to connect with Jason during the symposium are encouraged to reach out to him at [email protected].
Newland Chase, a wholly owned subsidiary of CIBT, is the leading global provider of immigration and visa services for corporations and individuals with over 1,700 expert immigration and visa professionals, attorneys and qualified migration consultants located in over 70 offices in 25 countries.