Get The Visibility Your Company Needs
Reduce compliance risks and mobility costs while managing individual and project-related travel with ImmiSMART: the solution that unifies your travel and mobility programs.
Newland Chase Highly Commended as Immigration Provider of the Year in EMEA EMMAs
November 26, 2019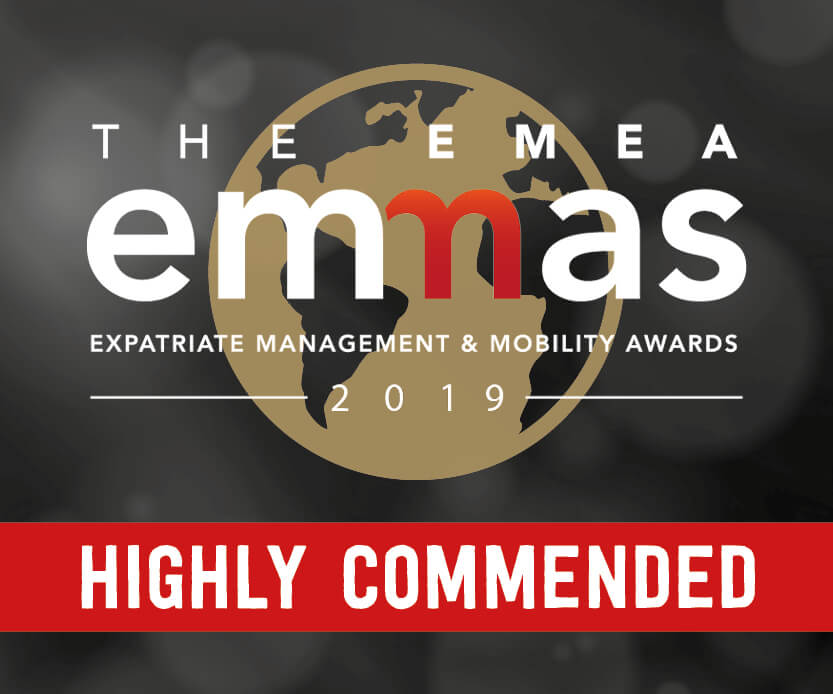 Newland Chase is gratified to be recognized as Highly Commended for Immigration Provider of the Year in the Forum for Expatriate Management's (FEM) 2019 EMEA region Expatriate Management & Mobility Awards (EMMAs).
The award was presented at a gala award dinner during the FEM EMEA Global Mobility Summit held November 20 and 21 at the Intercontinental London – The O2. The EMMAs are presented annually, recognizing excellence in various categories of the global mobility fields.
Attending the event and accepting the award on behalf of the company were Sergey Petrov, Director of EMEA and UK Immigration, Mehibe Hill, Director of Client Services for EMEA, Nargiz Garadaghi, Business Development Manager, Katie Bragan, Client Services Manager, and Jaana Alliku, Immigration Manager.
"Earning this highly commended recognition from FEM is an honor and affirmation of what we already know – that we have an exceptional team in the EMEA region. Our immigration and visa professionals, attorneys, and qualified migration consultants working throughout the region are true experts in their field and daily deliver exceptional service and solutions on behalf of our organization to our global clientele."

– Steven Diehl, Global Managing Director, Newland Chase
Newland Chase's capabilities in Europe, the Middle East, and Africa include its global headquarters in London – with additional offices in Paris, Madrid, Amsterdam, Geneva, Frankfurt, Dublin, Dubai, and Cape Town.
This year's EMMAs entry particularly highlighted the exceptional work of Newland Chase teams on innovative solutions for multinational companies dealing with the EU's Posted Worker Rules and cutting-edge technology solutions for compliance in business travel and short-notice temporary work assignments in multiple countries in the region.
Newland Chase, a wholly owned subsidiary of CIBT, is the leading global provider of immigration and visa services for corporations and individuals with over 1,700 expert immigration and visa professionals, attorneys and qualified migration consultants located in over 70 offices in 25 countries – providing immigration and business travel support to and from more than 190 countries around the world.
The Forum for Expatriate Management (FEM) is the premier worldwide community for global mobility professionals. With numerous international and country events, it supports best industry practices across all global mobility sectors. Newland Chase has supported FEM's mission by partnering to present numerous educational sessions and events, including FEM's Masterclass Series for mobility professionals, and sponsoring the founding of FEM's first Mexico chapter last year in Mexico City.