Get The Visibility Your Company Needs
Reduce compliance risks and mobility costs while managing individual and project-related travel with ImmiSMART: the solution that unifies your travel and mobility programs.
UNITED KINGDOM: The Impact of Brexit on Sponsor Licence Applications
April 6, 2022
This white paper was prepared by Newland Chase. View as a downloadable PDF
The Home Office's latest publication of sponsorship transparency data up to and including Q4 2021 confirms what immigration practitioners predicted and are now witnessing: that Brexit, supercharged by a post-pandemic recovery of the UK economy, has resulted in a surge in UK organisations applying for sponsor licences (to hire foreign workers) which, in turn, has drastically impacted processing times and lead to a rapidly growing register of sponsors.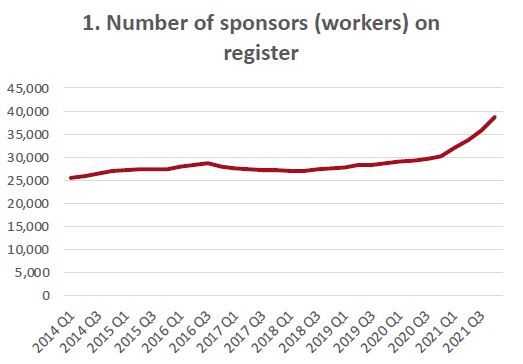 *Chart 1 shows that, in the space of Q4 2020 to Q4 2021, the number of sponsors on the register of licensed sponsors has increased by around 28%, compared with an increase of around 5% for the preceding period of Q4 2019 to Q4 2020.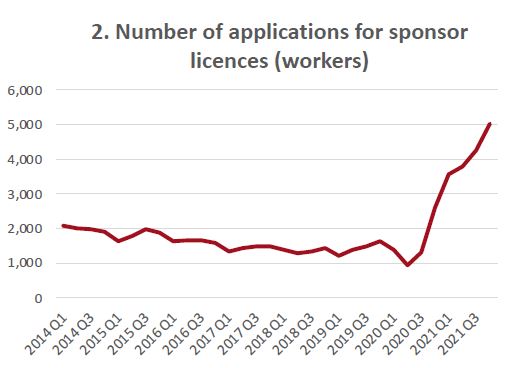 *Chart 2, which comes complete with a dramatic uptick for the Q4 2020 to Q4 2021 period, indicates over a four-fold increase in the number of sponsor licence applications being made, and serves to explain the data in the following charts.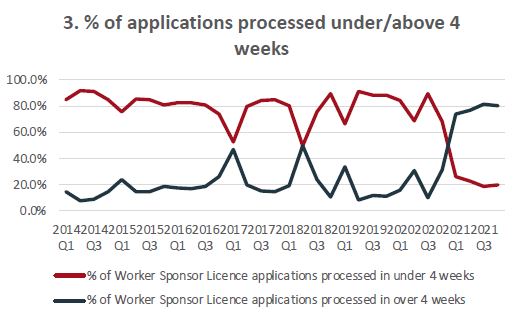 *Chart 3 clearly shows how there has been a role reversal in the number of applications that have been processed within/beyond four weeks. In the years prior to Brexit, it would have been reasonable to expect that approximately 10-30% of applications would have been decided beyond four weeks, however that has risen dramatically to around 80% of applications.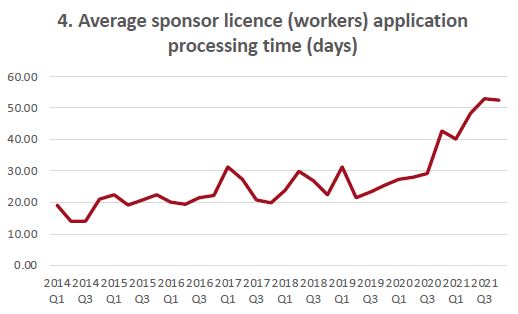 *Chart 4 indicates a general lengthening of the average processing times over the last decade. However, the Brexit uptick is once again visible, with processing times slightly over 50 days in Q4 2021, compared with around 43 days in Q4 2020.
On closer inspection, this lengthening is visible even prior to Brexit; organisations planning for the UK's departure from the EU were pre-emptively securing sponsor licences and, thus, beginning to place strain on the Home Office's ability to process applications in line with processing times seen prior to 2019.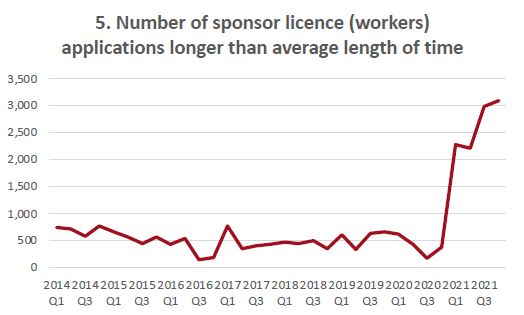 Of all the upticks seen in the charts above, *Chart 5 stands out in terms of visualising the impact of Brexit on the Home Office's ability to process applications. This chart shows that, for the period of Q4 2020 to Q4 2021, there was an almost six-fold increase in the number of sponsor licence applications taking longer than the average processing time shown in Chart 4.
It is reasonable to conclude that the spike in the number of applications for the same quarter, shown in Chart 2, is the probable cause of this, indicating the Home Office's struggle to adequately resource for processing applications.
What Does This Mean for Organisations Looking to Become Sponsors?
The above data underscores the need for all organisations seeking to apply for a sponsor licence to consider the following:
Act now – if you have identified a genuine vacancy in your workforce or believe that you could have such a vacancy in the future, and that this role may need to be filled by a person without settled status in the UK, apply for the licence pre-emptively so that it is in place to enable you to act when the need arises.
Plan your timings – with dramatically increasing processing times, it is critical that you factor these into your recruiting processes (along with the processing times for corresponding visa applications), so that you have realistic expectations about the date by which you can expect sponsored workers to commence working for you.
Get it right – to ensure that you make a valid application and reduce the risk of it being delayed, rejected, or even refused, you will need to submit to the Home Office all necessary information and supporting evidence.
Consider priority processing – the Home Office offers an extremely limited priority service, for which it charges an additional £500 fee (this being on top of the Home Office fee for the licence itself), with a view to reducing processing times "with a delivery target of 10 working days" (although, in practice, this delivery target is not always met).
Get your house in order – as part of the application process, the Home Office may conduct a pre-licence visit to your premises to check that you have suitably robust HR processes and systems in place to become a trusted sponsor. You should consider auditing your current setup against Home Office sponsorship requirements and, where necessary, tightening these up. Newland Chase can provide you with a 'mock audit' service, where we conduct checks similar to those undertaken by the Home Office with a view to identifying and addressing compliance issues in your organisation.
Prepare for related actions – if you are applying for a sponsor licence, there is a high chance that you have identified a non-settled worker that you wish to sponsor. While your licence application is being processed, you should also ensure that all possible preparations are underway for the individual's eventual visa application. This involves collating their supporting evidence in support of their visa application, including evidence of their English language ability, which, in itself, may take a number of months to secure.
How Newland Chase Can Help
A sponsor licence provides the foundation for an even greater number of sponsored workers, and it's vital that employers work to put safeguards in place and look to capitalise on this facility to the fullest extent.
Newland Chase has an unrivalled understanding of the sponsor licence process. We offer a full range of services including full system audits and recommendations tailored to your business. Contact our team for expert assistance in navigating the complexities of compliance, reviewing and refreshing the licence and unlocking all of its potential to create opportunity going forward.
*Charts based on sponsorship transparency data published by the Home Office
This immigration update is for informational purposes only and is not a substitute for legal or scenario-specific advice. Furthermore, it is important to note that immigration announcements are subject to sudden and unexpected changes. Readers are encouraged to reach out to Newland Chase for any case- or company-specific assessments.