Get The Visibility Your Company Needs
Reduce compliance risks and mobility costs while managing individual and project-related travel with ImmiSMART: the solution that unifies your travel and mobility programs.
UNITED STATES: Significant Forward Progress for Several Categories in October 2020 Visa Bulletin
October 1, 2020
On 24 September 2020, the US Department of State (DOS) released the October 2020 Visa Bulletin, the first of the new government fiscal year (FY 2021). It showed significant advancement in most categories, but especially for applicants under the EB-3 category who were born in India.
Often the month of the most anticipated visa bulletin, October marks the reset of the number of green cards authorized to be issued annually and by category for employment-based cases. Thus far in 2020, many of the employment-based categories have been current with an excess number of green cards available, while the categories for applicants born in China and India have remained oversubscribed.
The visa bulletin contains two charts – the "Final Action Dates" and the "Dates for Filing."  United States Citizenship and Immigration Services (USCIS) dictates which chart to follow each month for the filing of adjustment of status (AOS) applications, a process available to eligible green card applicants inside of the United States.  Green card applicants abroad must always use the Final Action Dates chart.
USCIS announced that it would follow the Dates for Filing chart for accepting employment-based AOS applications for October, thus effecting significant advancement for filing eligibility for applicants in many categories. The dates for filing for October 2020 are considerably ahead of those listed in the previous month's visa bulletin in both charts. Furthermore, while the final action dates were determinative in September 2020, the switch to the filing dates for October 2020 in itself enables a greater number of applications to be filed.
The most notable takeaways for employment-based AOS filing eligibility for October 2020 include the following:
EB-1 India and China – 1 September 2020
EB-3 China- 1 June 2018 (and EB-2 China- October 1, 2016)
EB-3 India- 1 January 2015 (and EB-2 India- May 15, 2011)
All categories are current for "All Other", Mexico, and the Philippines.
October 2020 Dates for Filing for Employment-Based Preference Cases: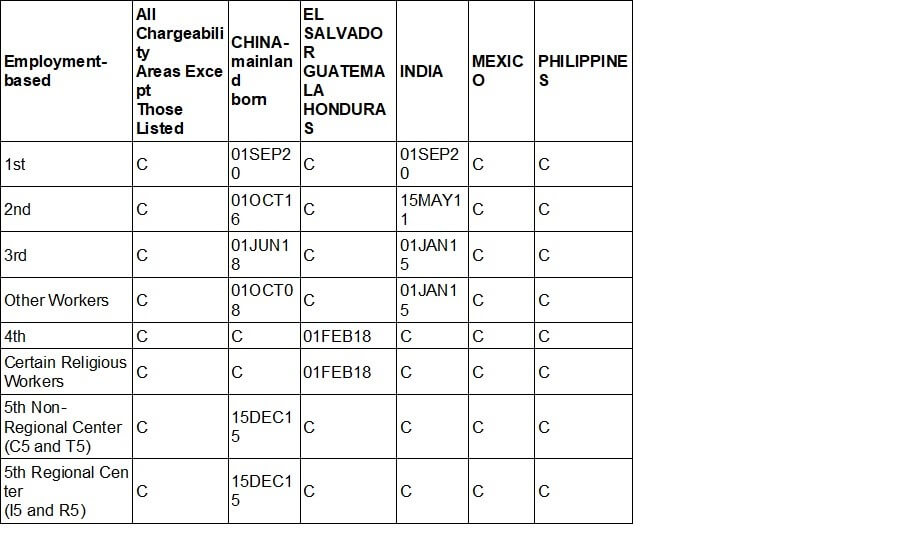 For Family-Sponsored cases, in all categories except F2A, applicants must follow the specifically designated Dates for Filing chart.  These dates remain the same as last month.
Our Advice
Employers who may be affected are encouraged to contact a Newland Chase immigration specialist for case-specific advice.
For general advice and information on immigration and business travel to the US, please contact us.
This information was prepared by Greenberg Traurig and published with their permission. The blog was originally published here.